EDP adds more unique shape dividers to Elementor that will help you to create better-looking sections.
Quick intro to Shape Dividers:
Designer Powerup comes with 25 new shapes.
Getting the most value out of Shape Dividers:
Here are the different ways Shape Dividers can help you spice up your designs:
Turn boring sections into something more fun
Break the page layout and introduce uniqueness to your design
Create eye-pleasing designs for your users
Using EDP Shape Dividers:
It's just like using the normal shape dividers where you select a section, go to Style -> Shape Divider, choose where you want to apply it (top/bottom) and pick a shape.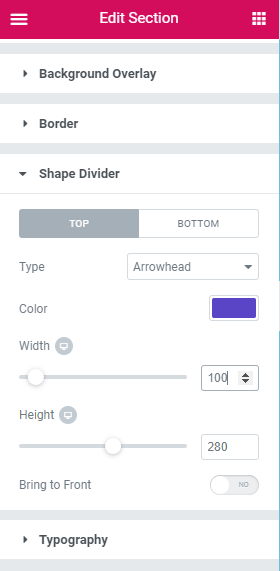 EDP shape dividers start from 'Arrowhead' and ends at 'Water'.
Note:
You can modify the height and width of the Shape Dividers just like any other default Elementor shape divider.
Shape Dividers can be applied to both the top or bottom of the section.
You can change the height and width of the shape dividers for tablets or mobile devices.