Schema Lite is regarded as one of the fastest WordPress themes available. The theme has gained popularity because of its minimal design and high performance. 
But, is Schema Lite the king of speed? 
I took it to my own hands to find out the answer. 
I compared Schema Lite with our own theme PixiGo to find out how they both stand up against each other.
While PixiGo is relatively new, it's super fast and can easily compete against some of the best WordPress blog themes out there. 
So, let's find out who wins this theme showdown: Schema Lite or PixiGo.
Quick Introduction Of The Two Themes
Before we begin, let me go through a quick introduction of these themes to help you understand more about them.
PixiGo is a free minimal ultra-fast blog theme developed by Pixify. It's a successor to our previous WordPress theme Nova (now discontinued).
The theme was built with speed and design in mind.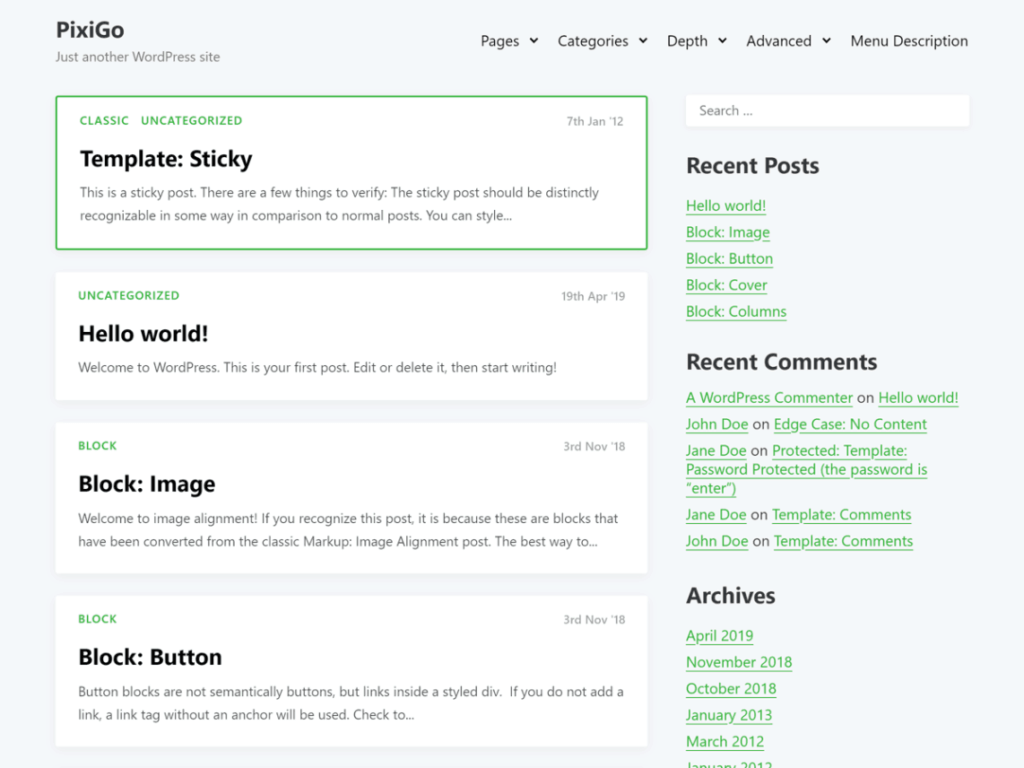 Our goal with PixiGo is to offer a WordPress theme to users who don't want to go through all the trouble of setting up a theme.
PixiGo is a theme that you can just install and go. No need to go through different customizations to make it look good.
Schema Lite is a free WordPress theme developed by MyThemeShop, a very popular marketplace for WordPress themes and plugins.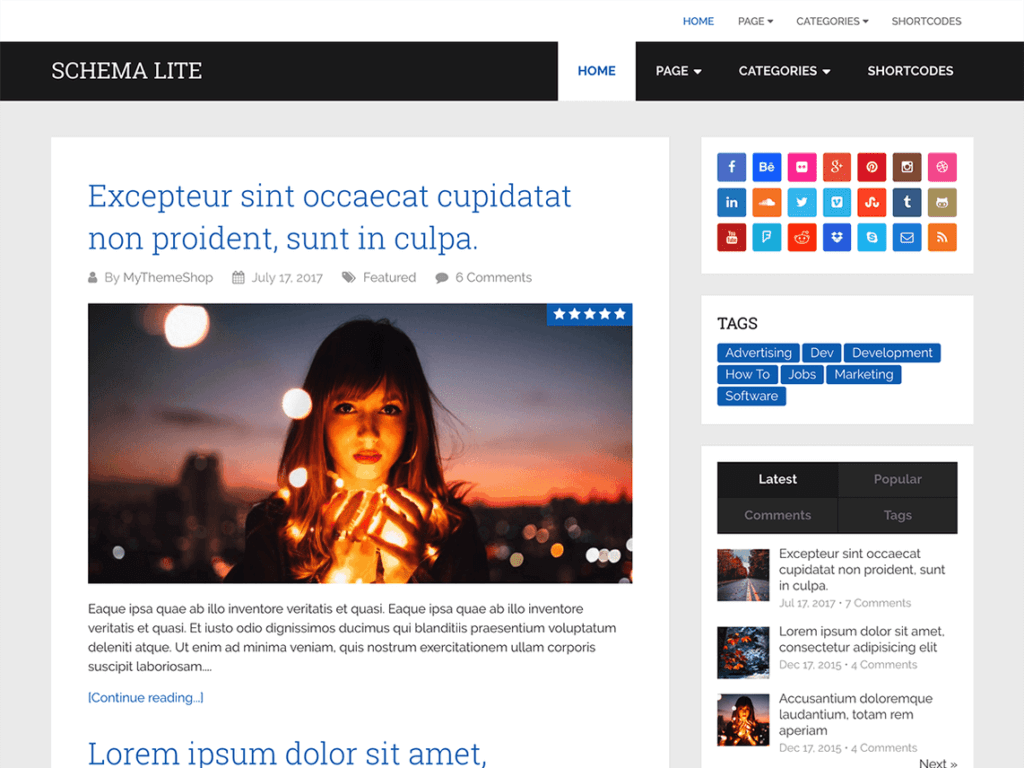 The theme has a very simple design and is super fast which is the main reason for its popularity.
Schema Lite also comes with a premium version of the theme with more added features and customization options.
PixiGo vs Schema Lite – Which Theme Is Better?
The goal of this showdown is to find out which theme is better. We'll be comparing both the themes using factors such as performance, customization, ease of use, and more.
At the end of the showdown, we will have an answer to which theme is better. Let's get started.
A good WordPress theme should always be easy to use. This includes the ability to modify or customize the theme design or settings without sweating too much.
Let's find out how PixiGo and Schema Lite stand in this test.
Installing PixiGo is pretty simple and doesn't require you to install any other plugins to make the theme work.
When it comes to customization, PixiGo uses the WordPress theme customizer to offer all its customization options. There is no separate theme options panel which makes it easier to access all settings in one place.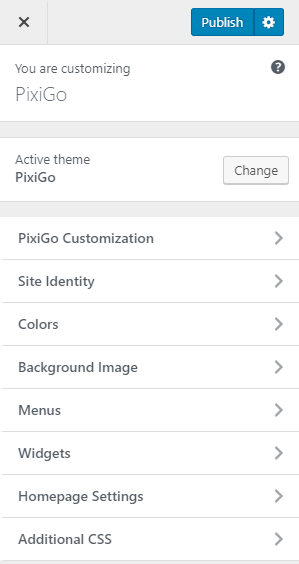 The customization settings are pretty straightforward and settings can be enabled or disabled with just one button click.
Another added benefit of having the theme options in the theme customizer is the ability to view the changes with live preview.
Using Schema Lite theme requires you to install some essential plugins to make it work properly.
This includes a review plugin, a short-code plugin, newsletter plugin, and more. While these plugins are essential to use Schema Lite properly, it's not a good experience to be forced to install 5 plugins.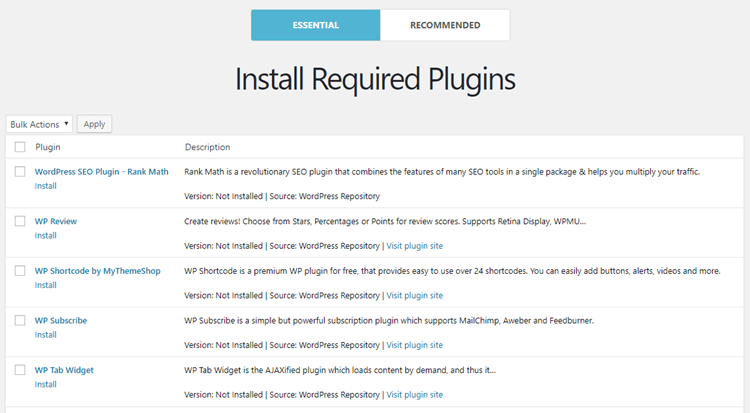 The customization settings are all available in the theme customizer making it very accessible.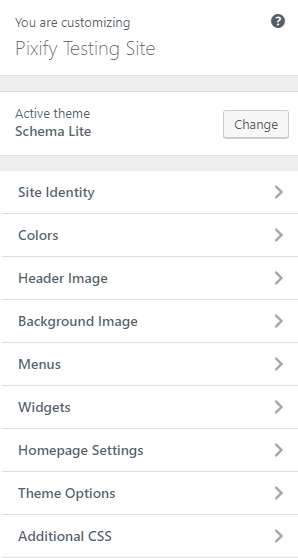 Speaking of accessibility, the theme adds several options under the Appearance menu. These are the Header and Background options. These options take you right to the customizer.
At first, I thought that these options are separate from the theme customizer as they are added under the Appearance menu.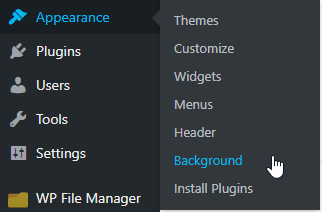 From a usability perspective, I understand that these options are added to make it easily accessible. But, it sure did confuse me for a while.
Both the themes have customization options right in the theme customizer which makes it very easy to make changes and view the live preview.
But, I'd give it to PixiGo as you're not forced to install plugins to make your theme work.
For someone, who wants to avoid installing tons of plugins to my website, Schema Lite's essential plugins were a huge turn off to me.
Performance is the backbone of any great WordPress theme. A WordPress theme should be fast to provide the best experience to the website users.
Let's take a look at the performance of PixiGo and Schema Lite theme.
A GTMetrix test of PixiGo theme reveals the performance of the theme. And, it's really fast.
The theme loads in under 800ms and has a page size of just 133KB. Another reason why the theme is so fast is the low number of requests.

And it's not just GTMetrix. Analyzing the theme on Google PageSpeed Insights also gives some awesome results.

PixiGo also comes with in-built lazy load images option which improves performance.
The theme has a score of 99/100 on Desktop and 98/100 on Mobile. It's safe to say that the theme is insanely fast.
Schema Lite is regarded as a very fast theme but performing a GTMetrix test showed that it's not that fast after all.
The theme loads in under 3 seconds and has a page size of 745KB. The number of requests is 72.

Schema Lite has a PageSpeed score of 80% and YSlow score of 69%.
While Schema Lite is a relatively fast theme, it comes nowhere close to PixiGo when it comes to performance.
PixiGo simply blows Schema Lite out of the water in terms of loading times and performance scores.
Layout options include the ability to change the layout of the pages. Options to display a sidebar, change layout width, and more come under this category.
Let's compare the layout options of both the themes.
There aren't enough layout control options in PixiGo. The theme lets you choose what to display on pages and posts.
You can hide the sidebar from your pages and posts in PixiGo theme.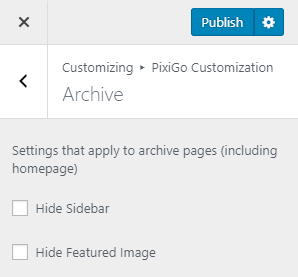 The theme also lets you hide featured images, related posts, tags, and author box.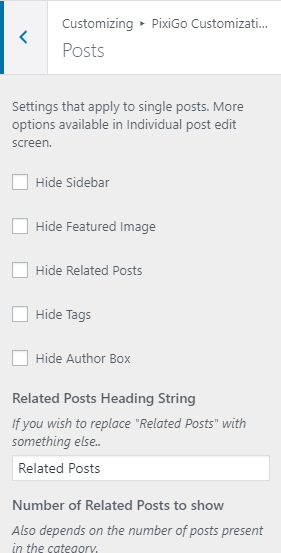 Apart from this, there are no options to change the container width in the theme.
Schema Lite lets you change the layout of the theme by giving you the option to set the sidebar position to left or right. You can also hide the sidebar.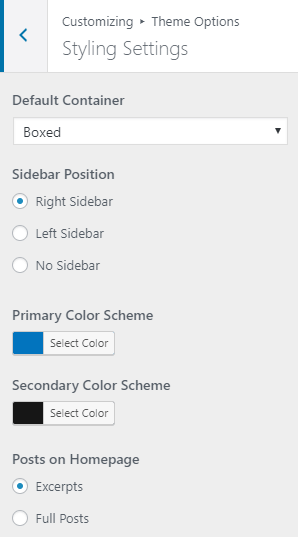 The theme also lets you select the page container width. You can change the container width to boxed, full-width (contained), and full-width (stretched).
You can also hide the author box, tags, related posts, and breadcrumbs from your single post/page.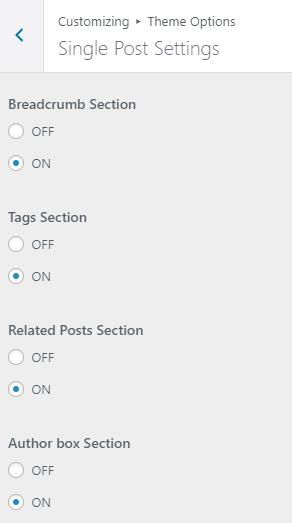 Schema Lite wins against PixiGo as it offers more layout control options. You can change the container width in Schema Lite. This feature is not available in PixiGo.
Other than that, both themes have the options to hide the breadcrumbs, author box, and related posts. PixiGo goes a step ahead and offers the option to hide the featured images too.
Many WordPress themes come with tons of color options that let you change the look and feel of your website.
Let's take a look at the color options in PixiGo and Schema Lite.
PixiGo has a very minimal design which means it doesn't have so many colors. It does have a primary color that you can change.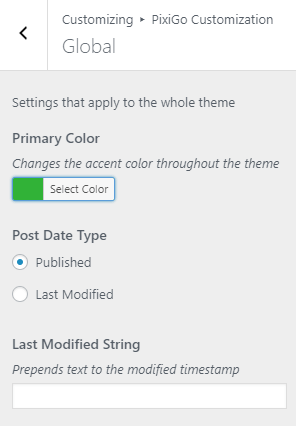 This changes the accent color throughout the theme. You can also change the background color of the theme.
Schema Lite has many different color options available. You can change the primary accent color of the theme along with the secondary color scheme.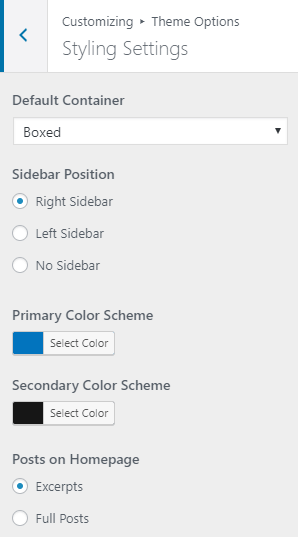 The theme also lets you change the header color and the background color of the theme.
Schema Lite wins this one as it provides more color options to let you change the look and feel of the website.
With more color options, you can make the theme match your brand design.
Page Builder Compatibility
Page Builders are getting popular every day and many people are now designing their pages using different page builders.
Does PixiGo and Schema Lite support page builders? Let's find out.
PixiGo works flawlessly with all major page builders. You can use the theme along with any page builder of your choice without facing any problems.
Schema Lite also supports all major page builders. The theme can be used with page builders without any hassles.
Since both the themes support page builders, there is no clear winner here. It's a tie between PixiGo and Schema Lite.
Support and documentation are very important for WordPress themes. A theme user might encounter issues in the theme that need attention.
In such cases, good support is very crucial along with theme documentation.
PixiGo WordPress theme offers support in many ways. You can directly reach out for support using the contact form or post your problem on the theme support page on WordPress.
Another way to get support and help regarding the theme is by joining the Pixify Facebook group where you can have discussions about the theme.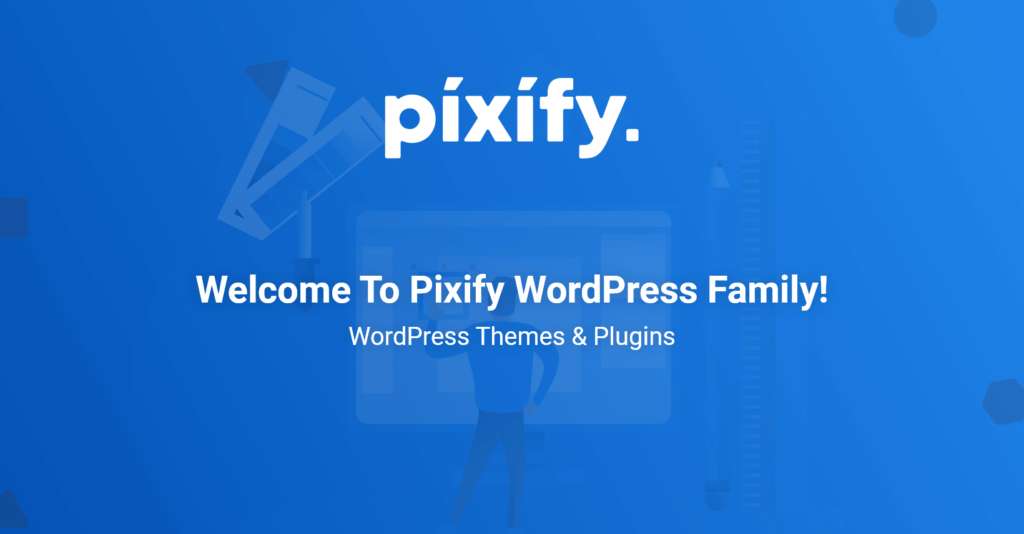 The theme is also updated quite regularly to ensure the users receive the best experience.
Schema Lite also offers support through their contact page and the support page on WordPress.
But, since Schema Lite is a free product by MyThemeShop, you will not receive 24/7 support or priority bug fixing. This is only available for their paying customers.
They do have a community forum where you can submit tickets for the theme. But you'll have to pay $9/year to be able to access the community.
PixiGo is a clear winner here as they offer support for free and also have a Facebook group dedicated to their products where you can get instant help.
On the other hand, Schema Lite doesn't provide any priority support and you'll have to pay extra charges to access their community forum.
So, which theme is better? PixiGo or Schema Lite?
Here's my answer:
Both the themes have a great design and features but PixiGo has an edge over Schema Lite theme.
The reason being that PixiGo outperforms Schema Lite in all speed tests massively and is much easier to use.
Not to mention the forced plugins required to be installed in Schema Lite.
Overall, PixiGo makes the whole experience very simple and smooth as you don't have to install a bunch of plugins nor do you have to spend time polishing the layout of the theme.
Just install and forget. That's what makes PixiGo the winner of this showdown.
To conclude, if you have any questions regarding PixiGo or Schema Lite, feel free to drop your comments below.