Today you're going to learn EXACTLY how to create engaging content. 
In fact, this is the same approach I used to create content for my personal blog that now has an average time on page of over 2 minutes:

The best part? 
I've used this approach over and over for multiple pieces of content and it has worked EVERY single time. 
Let's dive in…
The 5 Step Process To Create Engaging Content
This 5-step process will help you create content that engages your readers and leads to: 
More comments.
More social shares.
More email subscribers. 
More people who love your brand. 
And the first step of this process starts with understanding your user.
Step 1. Understand Your Audience By Finding Their Pain-Points
If you have no idea what your audience is struggling with, you'll never be able to create content that captivates them. 
Before you start writing your content, you need to take a step back and find out the pain-points of the topic you're writing about. 
In other words, you need to find out what your audience wants to achieve by reading your content. 
For example, before writing this article, I went ahead and listed all the reasons why people would want to read this article: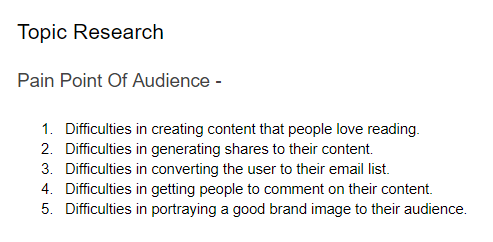 How do you do this? 
By mixing topic research with your keyword research. 
Here's the thing: 
Whenever you come up with a topic, you probably do some keyword research to find out the keywords to target and understand your competitors. 
But: 
You probably don't spend time doing topic research. 
The key goal of topic research is to find what YOUR audience wants with the topic. 
And it helps uncover so many pain-points that you could not have discovered otherwise. 
In fact: 
Topic research helps us understand our audience much better. 
To start with topic research, you first need to research your competitors. Find out what they have covered in their content. 
Do this for the top 10 results for the topic. 
This will give you an idea of the intent of the 
The next step is to search the topic on different online communities and forums in your industry. 
Can't find any active communities? 
Use Quora. 
Quora is gold-mine to research topics as it provides you with questions YOUR audience is searching for. 
Check this out: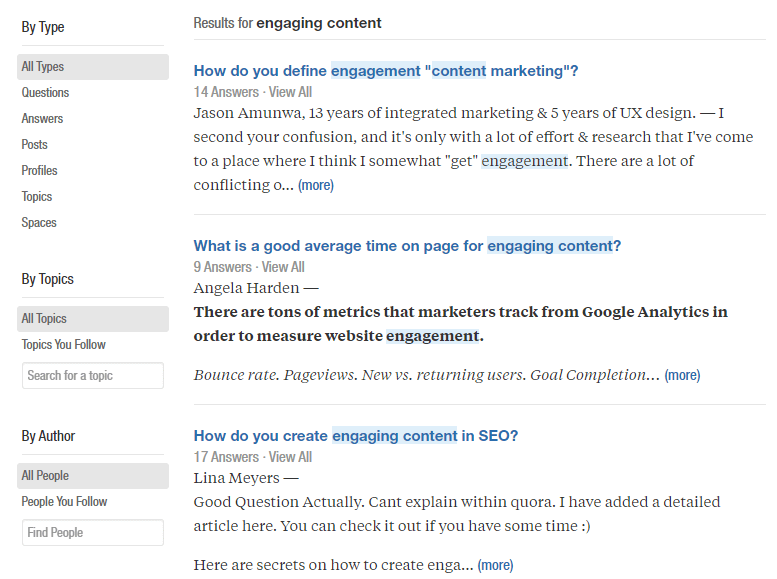 There are hundreds of questions for the topic 'Engaging Content'. 
The big takeaway?
Check out each of the questions for your topic on Quora and make a list of questions or problems your audience is facing. 
Step 2. Offer A Great Reading Experience
This step is all about creating a phenomenal experience for your readers. 
And it starts with a headline:
Write Captivating Headlines
The headline is the first step of drawing the user's attention to your content. 
And it's not as difficult as you think. 
If done right, your headline can help you not only make the user click to your content but also be genuinely interested in reading it. 
How? 
By writing at least 25 headlines. 
This is IMPORTANT. 
Testing only a few headlines is not going to help you come up with a solid headline. 
You need to test at least 25 headlines before finalizing one. 
In fact:
I tested 25 different headlines for this guide: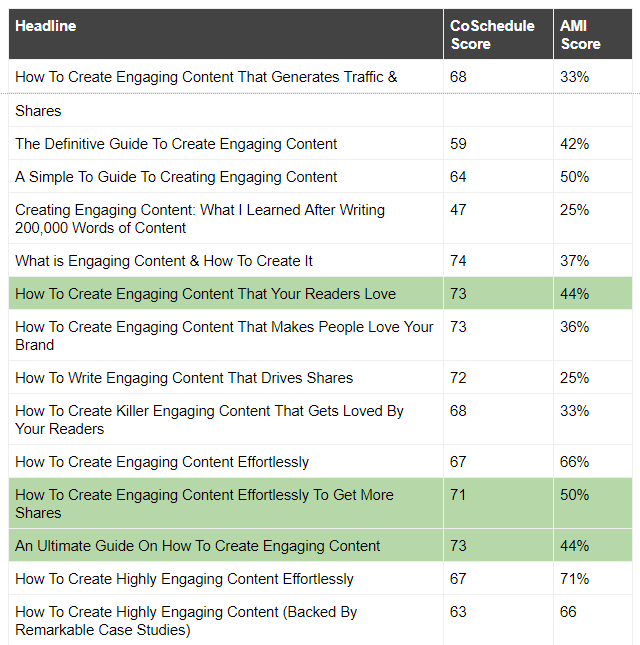 You can use CoSchedule's headline analyzer to find the headline score. Alternatively, you can also use the headline analyzer tool by Advanced Marketing Institute. 
I use both of them and write the scores next to the headline. 
Here's one tip: 
Avoid clickbait headlines at all costs. 
Such headlines can hurt your brand and you could lose your valuable audience. 
After writing 25 headlines, highlight the 5 best headlines based on the score and relevancy to the topic. 
Don't forget the relevancy part. 
Because: 
When writing 25 headlines, you'll probably write headlines that deviate from the topic. 
Like this headline I wrote: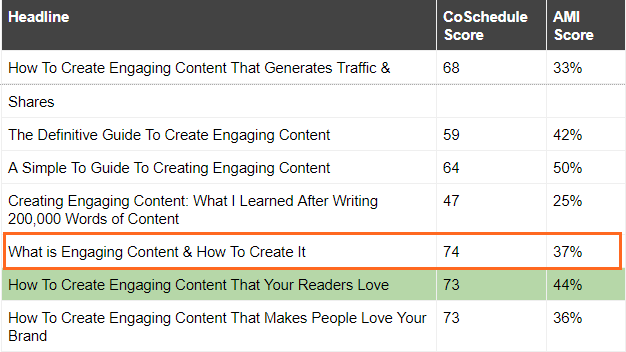 The headline is captivating and has a good headline score. 
But: 
It's not very relevant as it puts more weight to the 'What is engaging content' and less to the process that is explained in the guide. 
Once you have the 5 best headlines chosen, pick the one that has the highest score.
Write Intros That Hook Your Readers
I need you to understand this: 
Break out of the fundamental law that says intros should be at least 100-200 words. 
It's not helping you write captivating intros. 
And…
…it's certainly not helping your readers at all. 
Here's why: 
You're sacrificing the quality of the MOST IMPORTANT part of your content. 
In fact: 
The intro of this guide is less than 100 words. 
And if you're still reading this, it means you got hooked. 
The simple step to writing great intros is to show your reader how your content is going to help them. 
This is EXACTLY what I did above: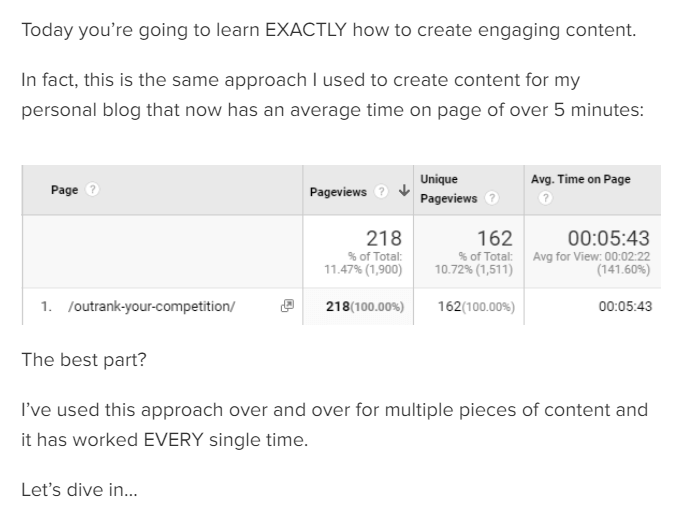 You can even go a step further and completely hook your readers using the APP Method coined by Brian Dean. 
Here's how it works: 
"APP" stands for Agree, Promise, and Preview.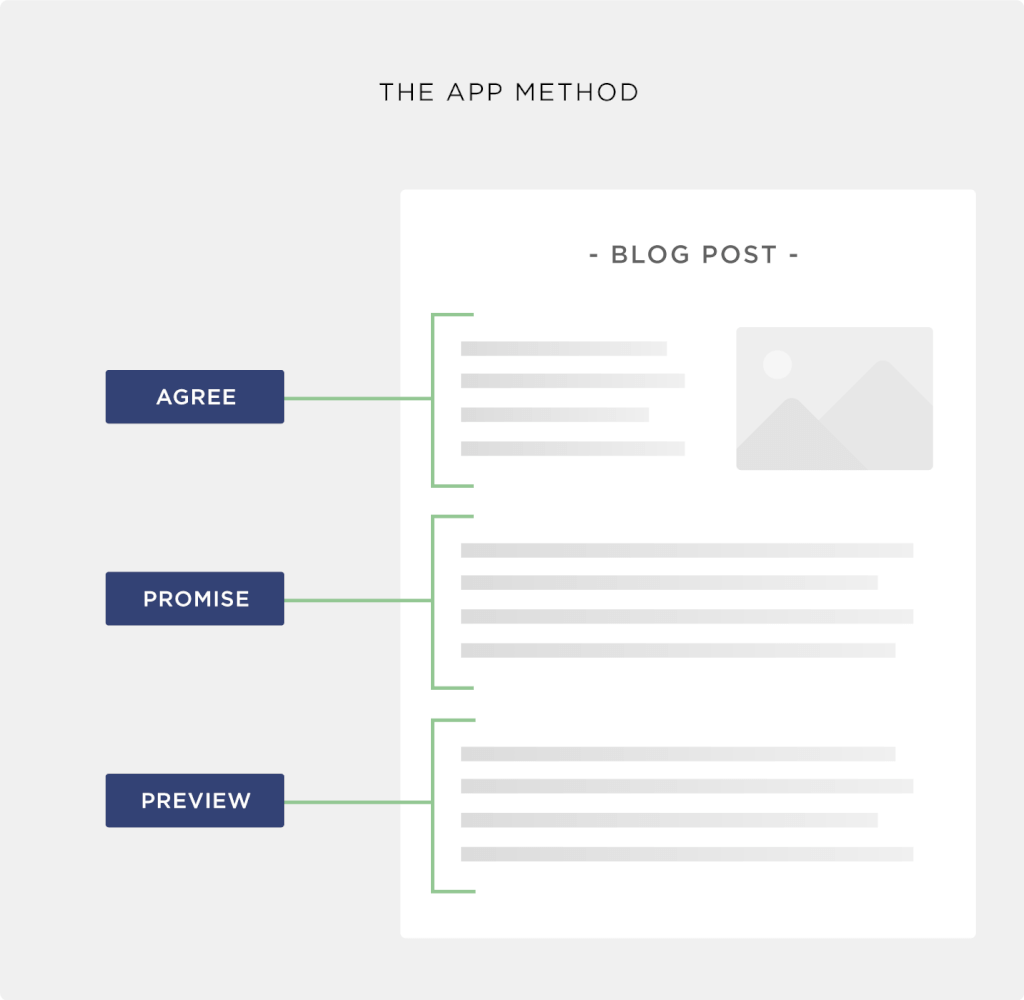 With this blog post introduction method, you start the introduction by an idea the reader agrees 
This is done to show them you understand the reader's problems.
Next, you give them a peek of how your content is going to help them. 
Once you're done with your promise, you go ahead and show them a preview of what your content is about. 
I've used this technique several times and it works flawlessly.
Make Your Content Insanely Useful
Back in 2016, when I launched my personal blog, this was the first blog post that I published.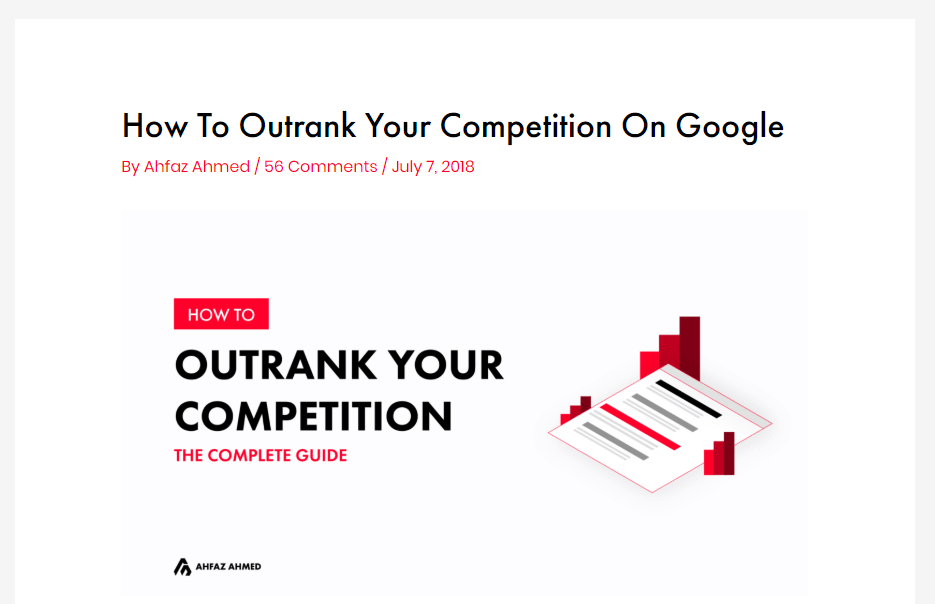 And today…
…it sits at #2 position for the keyword 'outrank your competition'.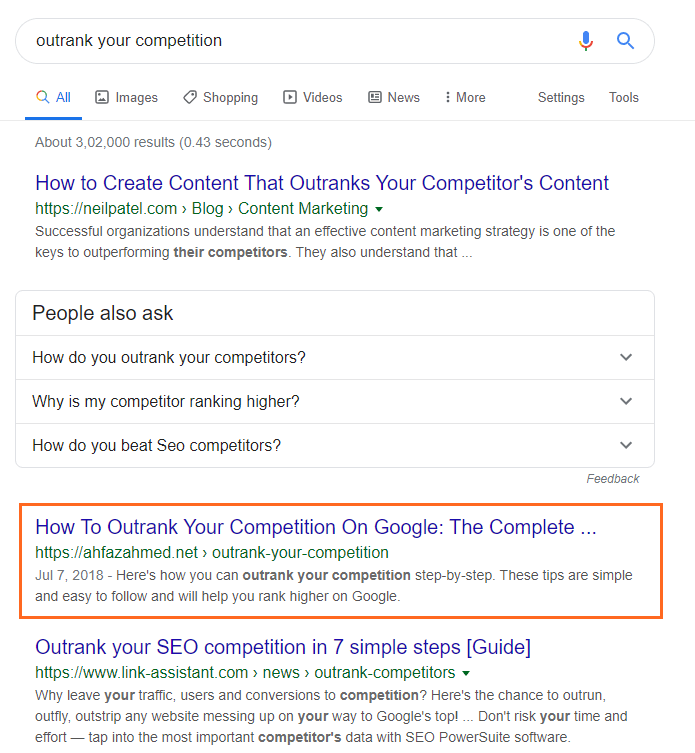 The reason? 
Because the content is insanely useful. 
Here's a comparison of my blog post and Inc's blog post for the same topic: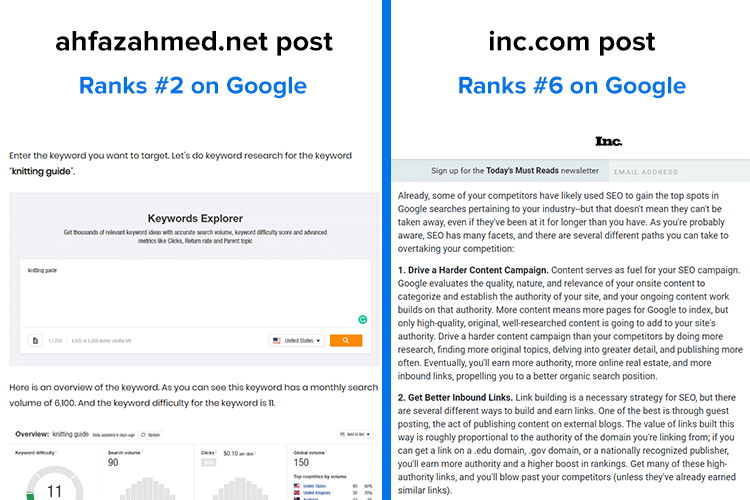 See the difference? 
Inc's blog post is the same old cookie-cutter content that gives no actionable advice to the readers. 
On the other hand, my post provides ACTIONABLE advice in each step to help the reader throughout the article.
The takeaway? 
Create content that is insanely useful to the reader to an extent where yours is the only content they refer to when they need help with that particular topic. 
How can you do that? 
Step 1. Check out what your competitors have written on the topic 
This is fairly simple. 
Create a document and list down all the sub-headings your competitors have in their content.
Do this with at least 10 competing posts and you'll have lots of ideas you can cover in your content.
Step 2. Double down on these sub topics and expand them 
The next step is to research the sub-topics and expand them by adding more depth to your content.
Here's how I expanded each sub-topic for my freelance writing guide: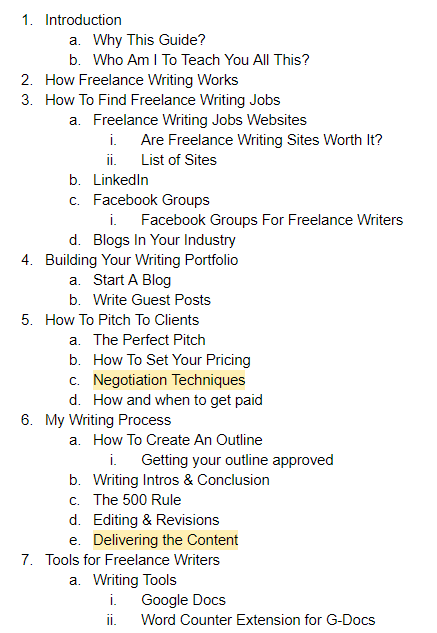 Step 3. Make your content actionable and use lots of screenshots
Make your content more actionable by adding a step-by-step process. 
Also, use lots of screenshots to visually explain to your readers what you're talking about. 
Use Site Links (Jump Links)
At the beginning of this guide, you might have seen this: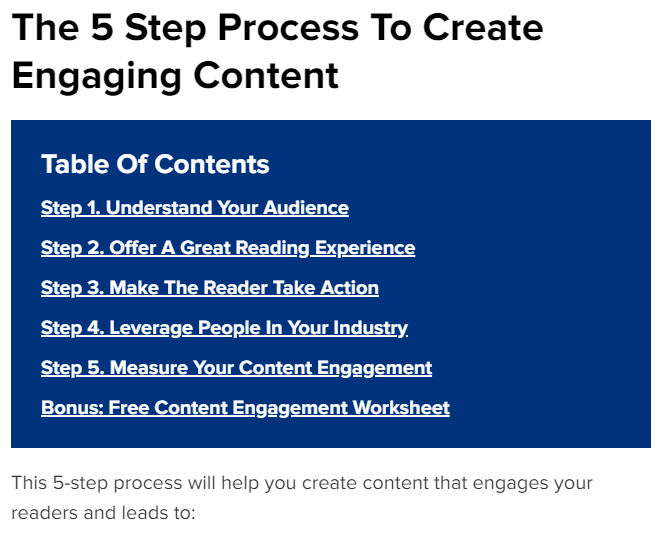 These site links help the user navigate through your content more easily. 
Here's the deal: 
The more your reader interacts with your content, the more interested they are in reading it. 
If you make it easier for your readers to browse through your content, they will be more likely to engage with your content. 
You can add site links easily to your content by using a table of contents plugin or manually linking each section. 
Use Content Filters For Long Posts
Let's face it: 
Nobody likes to read long-form content.
Even if it helps you rank well on the search engines, long articles take time to read. 
That's why…
…users tend to skim through the content. 
So how do you engage the user to read your content completely? 
Here's how: 
By using content filters.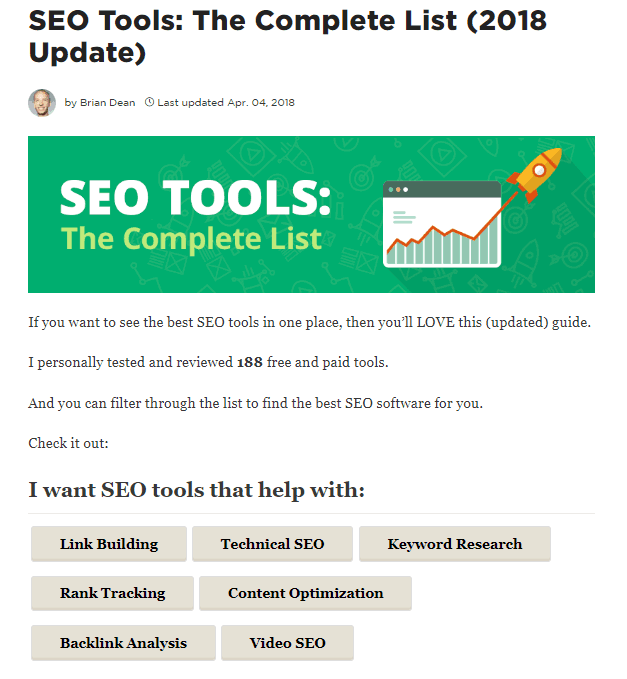 Content filters allow the user to show/hide any part of the content using buttons. 
This helps the user to consume the content they want to read. 
You should start using content filters in your long list posts and guides. 
In fact: 
The average time on page for one of my blog posts shot up after adding content filters to my post:

So how do you add content filters to your post? 
We developed Smart Content Filter which is so far the only best content filter plugin for WordPress out there.
You can create filters and customize them accordingly to ensure your website users make use of filters while consuming your content.
Properly Format Your Content
You could have really helpful content published on your blog but it still will not be able to engage your content. 
Because: 
It's not well-formatted. 
Properly formatting your content is one of the golden-nuggets in creating engaging content yet it's often ignored. 
Here's how you can properly format your content:
Let me ask you a question: 
Would you be interested in reading an article that looks like this?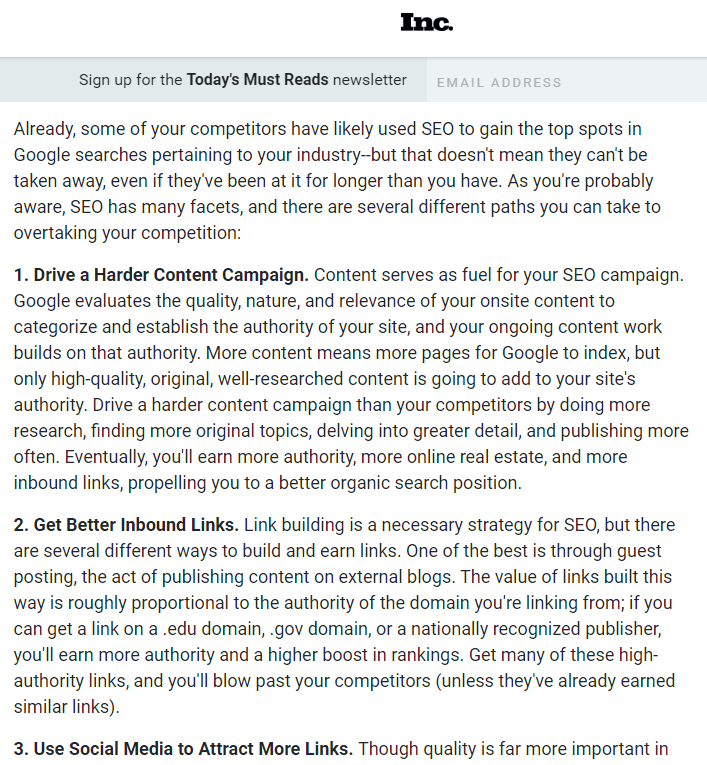 I'm sure not. 
Why? 
Because it has long paragraphs which makes it so difficult to read. 
You should break down your long paragraphs to make them more readable. 
If you're not used to writing short paragraphs, use a tool like Hemmingway to break down your long sentences into short ones.
Brian Dean extensively uses Bucket Brigades in his content. 
And here's the time on page of his website:

That's impressive! 
But what are Bucket Brigades?
Bucket Brigades are words and phrases you add to your content where the user might get bored.
Here's an example from Brian's blog: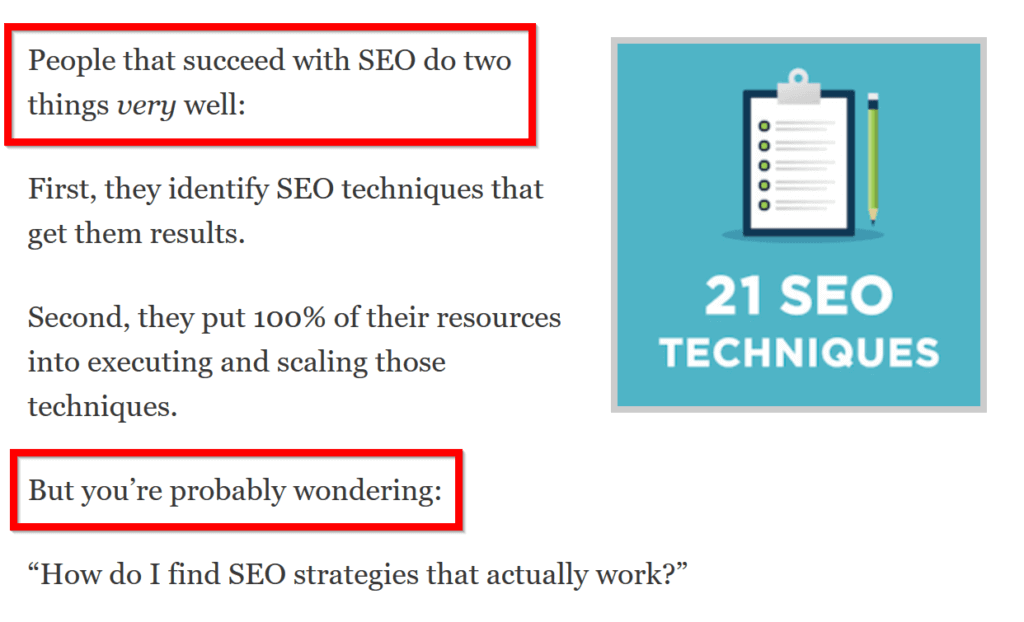 As you can see, these words and phrases end with a colon and make you keep reading the content. 
In fact: 
You might have noticed Bucket Brigades in this guide as well!
Using such words and phrases will help you make people stick on your page for a longer time.
Write Benefit-Driven Subheadings
Here's the truth: 
The subheadings in your content are turning off your users and making them leave the page. 
Because: 
Simple subheadings aren't interesting anymore. 
You need to write subheadings that will make the user want to keep reading. 
This can be done easily by writing benefit-driven subheadings. 
Here is an example: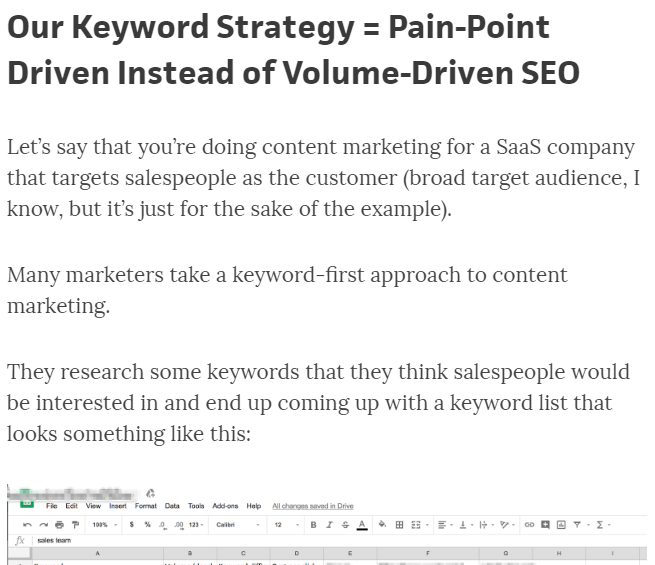 Subheadings like this keep the user interested in reading your content…
…which leads to better engagement. 
All you have to do is add a benefit to your subheading. 
You can make it even better by: 
Adding numbers.
Once you've turned your boring subheadings into benefit-driven subheadings, it's time to move onto the next tip:
The last step in offering a great experience to your readers is: 
Removing unnecessary elements from your blog. 
Anything that distracts the user can make them leave the page in a blink of an eye. 
Here's how you can minimize distractions in your content:
Step 1. Have a clean design 
Having a clean and minimal design that makes the reader focus on the content can help you minimize distractions. 
Step 2. Ditch the sidebar. Seriously!
Numerous case studies have proven multiple times that sidebars bring NO VALUE. 
In fact: 
You will notice a boost in conversions without sidebars. 
Here's why: 
The goal of any content is to make the user consume it. 
And sidebars are a complete distraction for the user to achieve this goal. 
On top of that, sidebars are completely useless on a mobile device. 
That's why it's time you remove the sidebar and notice the boost in your content engagement. 
Finally, when you are done creating a better reading experience for your users…
…it's time for them to take action. 
Step 3. Make It Irresistible For The Reader To Take Action Using These 4 Tips
Now it's time to make the user engage with your content. 
The question is: 
How do you make this happen? 
It's simple: 
You make them an offer they can't refuse. 
At the end of the day, the goal of your content is to generate social shares, conversions, and comments. 
And for this to happen, you need to follow these 4 tips: 
Here's the deal: 
People don't usually want to share articles on social media. 
But, they do love to share helpful tips. 
That's where the tweetable quotes come in. 
You might have noticed these click to tweet buttons throughout this guide:
And these tweetable quotes can help you generate a lot of tweets. 
To do this, you can use a simple WordPress plugin or a website like ClickToTweet.com: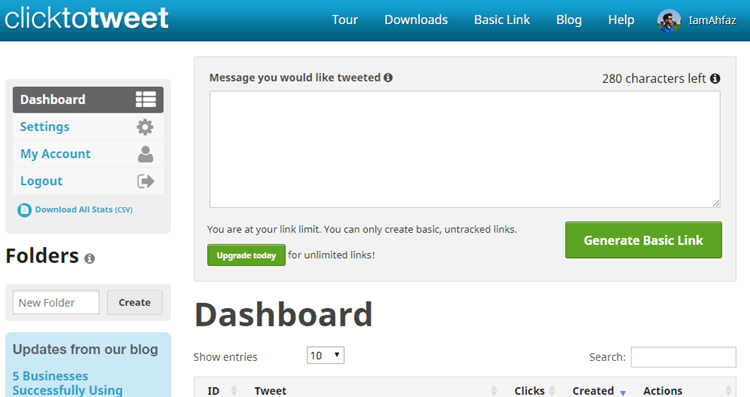 Whatever you use to generate click to tweet buttons, make sure it's an actionable tip or an interesting stat from your post. 
A generic click to tweet button won't get many tweets but an actionable tip will surely get you a good amount of tweets.
Include A Strong CTA Just After Your Introduction
What if your goal is to convert more users to your email list than generating tweets? 
Check out this post by CoSchedule: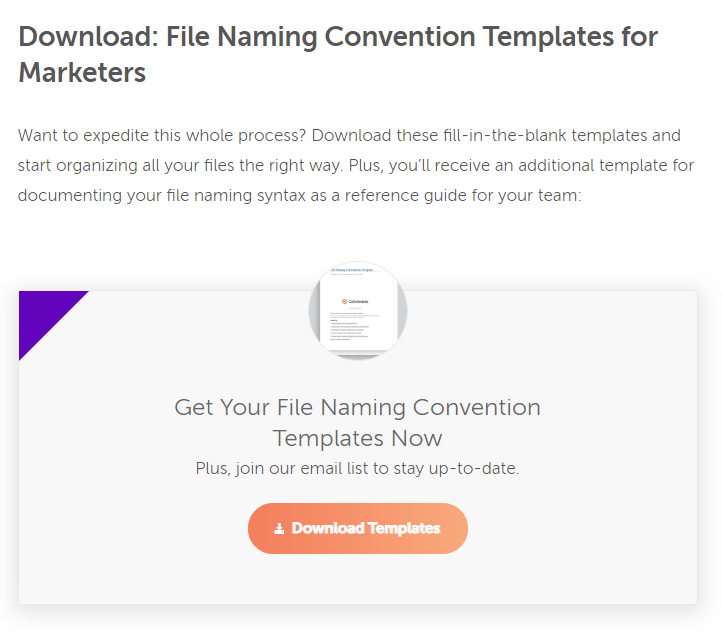 CoSchedule adds a call-to-action right after their introduction. 
This results in more conversions. 
The reason? 
It's because the user has just landed on the page and is keen on finding a solution to their problem. 
You can also add CTA throughout your content but make sure it's not too obtrusive.
Make Your Content Easy To Share
It still baffles me when I come across blogs that have no floating share buttons. 
Or worse…
…no social sharing buttons. 
If you want people to share your content, you need to make it easy for them.
Having floating social share buttons is very important. 
We have floating social sharing buttons on the right side of our content.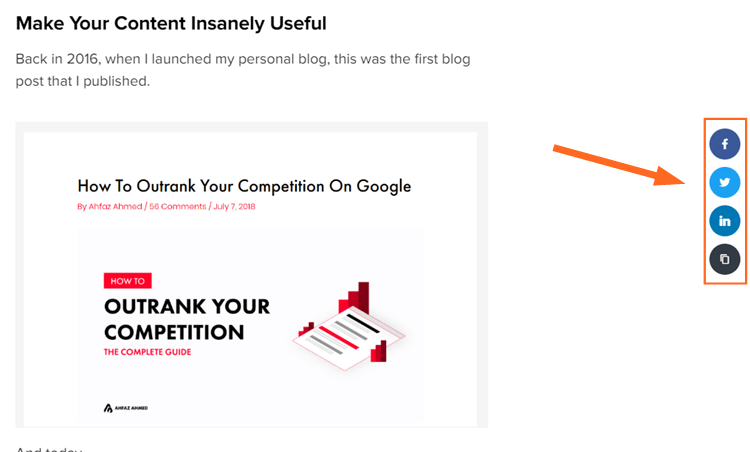 Also:
Don't forget to add sticky sharing buttons on mobile devices.
End Your Content With An Action For The User
So the reader just finished reading your content. What's next? 
You make them take action. 
The question is: 
How? 
Here are the ways:
Method #1: Ask An Open-Ended Question
Concluding your content with an open-ended question leads to more engagement. 
Here's what an open-ended question looks like: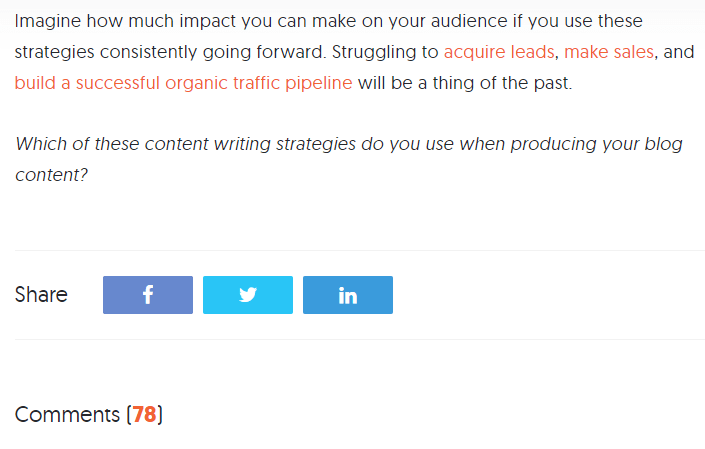 The above blog post has 78 comments. 
Not too bad. 
The reason why such open-ended questions work is…
…because they don't have a direct answer. 
For example – 
If you phrase the question in the screenshot above as: 
"Do you use these content writing strategies when producing your blog content?"
The results would've been different. 
Why? 
Because such a question can be answered by a simple "Yes" or "No". 
On the other hand, an open-ended question leads to a better discussion.
Method #2: Ask For Feedback
Another way of concluding your content is by asking for feedback. 
This works great when you're not an expert in your field. 
Asking for feedback can help your audience connect with you and most importantly…
…care for you.
Method #3: Link To Your Comments Section At The End Of Post
Sometimes a simple link that will scroll down to the comments section will prompt users to leave a comment to your content. 
This works great when you already have a few comments on your content. 
But what if your blog content gets no engagement at all? 
That's what the next step is all about: 
Step 4. Leverage People In Your Industry
Here's a harsh truth: 
Nobody cares about your content or the effort you put into creating it. 
Unless: 
You show up.  
Everywhere. 
Here are three tips that will help you get more engagement by leveraging people in your industry.
Here's the deal: 
If you want other people to care about your content, you need to care about their content too. 
Find out similar blogs in your industry and actively leave comments on them. 
This helps you get noticed and also build relationships with other bloggers just like you. 
Remember this: 
Here are a few tips that will help you write comments on other blogs. 
Write a detailed comment that brings value to the content. 

Don't spam at any costs. 

Don't self-promote in comments. 

Ask questions in the comment to start a conversation. 

Reply to other people's comments.
Mention Other Bloggers In Your Content
Name dropping other bloggers and influencers in your content can help you get more traffic and engagement. 
This motivates them to either share or leave a comment. 
Don't believe me? 
Check this out: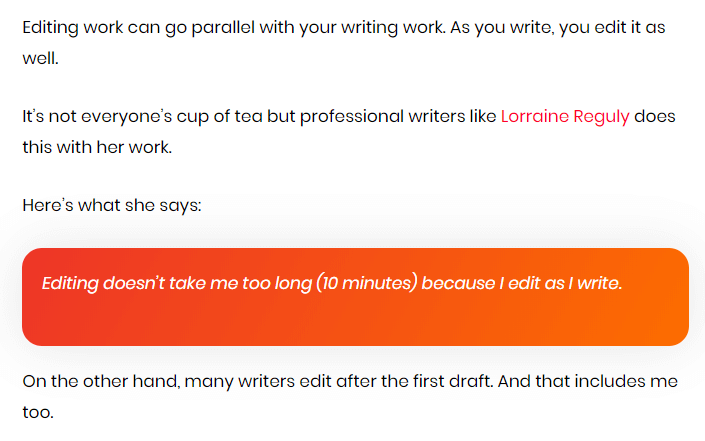 I mentioned Lorraine Reguly in my freelance writing guide. 
The result? 
This immensely valuable comment she left on my post: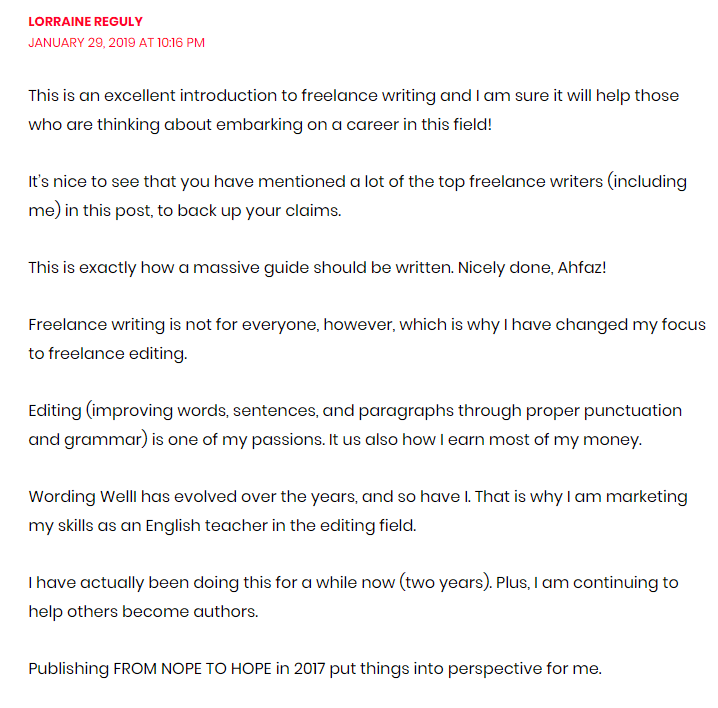 Whenever you mention someone in your content, don't forget to share it with them. 
If they like your content, they'd be happy to leave a comment.
Be Active On Industry Forums and Communities
The best way to get people to care about your content is to help them. 
And the best place to help them is: 
Industry forums and communities. 
If your industry doesn't have active forums, search for Facebook and LinkedIn groups. 
Make a list of groups and the type of discussions that happen in the group: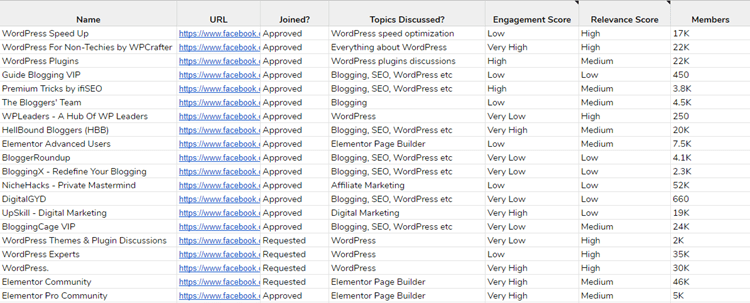 Once you're in, start helping out people wherever you can. 
With that being said, it's time to…
Step 5: Measure Your Content Engagement
Did everything to create engaging content? 
Now it's time to measure it. 
There are five important metrics you need to look at to measure content engagement:
Metric #1: Average Time On Page
This is the most important metric of all. 
Average time on page refers to the time a user spent on a particular page. This is different than session duration or average time on site. 
The reason why this is the most important metric to measure is: 
Average time spent on the page tells you whether your content is performing well or not. 
If your time on page is low, it means your content is not engaging enough. 
So what is a good time on page? 
Well: 
There is no definitive answer. 
Here's why: 
Reading a 5000-word article takes more time than reading a 2000-word article or an infographic. 
But you can still find out the best average time on page easily. 
Here's how: 
Fire up Google Analytics and analyze the time on page of all your posts.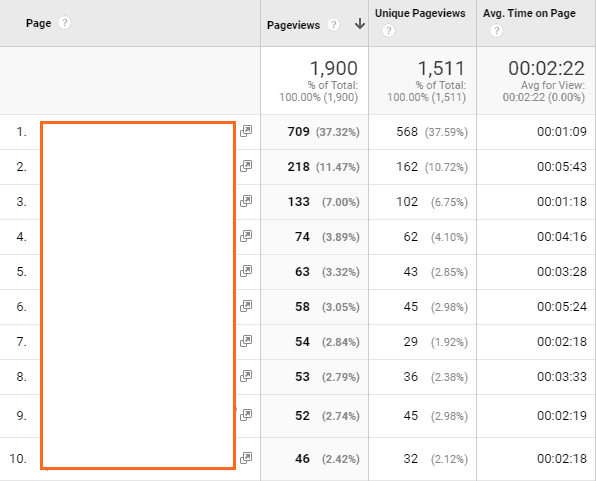 You'll find some posts have a higher time on the page while others will have a low time on page. 
Now: 
Check the posts that have a high time on page and compare them against the ones that have a low time on page. 
Try to identify what makes the post with good engagement perform better. 
This will uncover practices you should avoid to engage your readers. 
Exit Rate is a metric that shows the percentage of the people that leave your website after a certain page. 
A high exit rate indicates your content is not engaging enough. 
You can improve your exit rate by making the user stay on your page even after they're done reading your content. 
This can be done easily by adding related posts at the end of your content.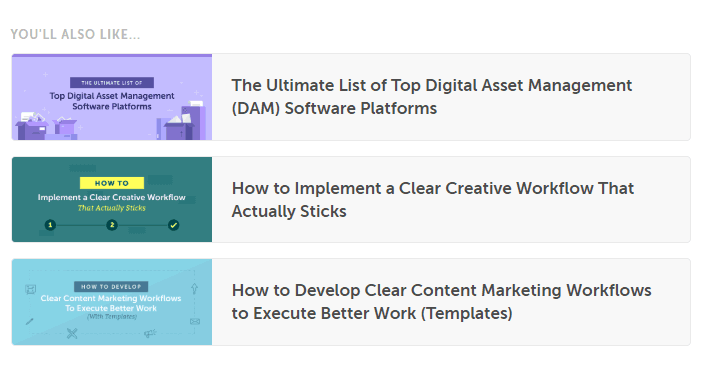 You can also add 'Recommend Articles' in between your content to lower your exit rate.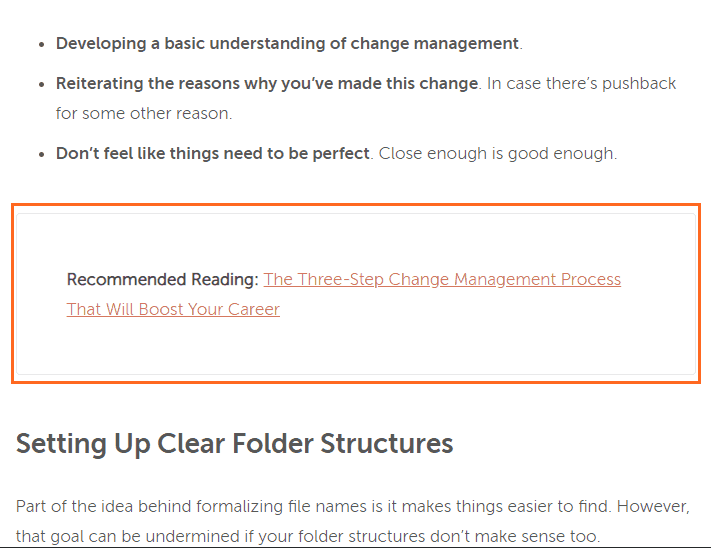 Metric #3: Email Sign Ups
One of the important goals of content is to convert users. 
That's why measuring the email sign-ups generated from your content is important. 
If the user finds your content engaging, they'll be likely to sign up for more updates or the bonus content you're offering in your content. 
You can set goals in Google Analytics to measure email signups from your content. 
Creating engaging content is not rocket science.
It's very simple. 
All you need to do is scratch some items off your checklist and you're done. 
Now I'd like to hear it from you: 
What content engagement strategy mentioned in this guide have you tried in the past? And how well did it work for you? 
Leave a comment below and let me know.